---
Home | About | Advice | Indexes | FAQ | Family tree | Links | Publications | Services | What's New
---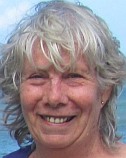 Judy Webster

Working as a professional genealogist since 1986.

Graduate Diploma in Local and Applied History (University of New England, Armidale NSW).

Accredited by the Australasian Association of Genealogists and Record Agents.

Queensland Family History Society's Award for Services to Family History.

Queensland State Archives records are my speciality. I particularly enjoy working with unusual sources that overcome 'dead ends' in family history; and I am experienced in tracing living descendants in Queensland. (See testimonials from my clients.)

My genealogy publications include guides and indexes and conference papers and journal / magazine articles.

I have given talks to family historians at Armidale, Atherton, Auckland (NZ), Ballina, Biloela, Brisbane, Cairns, Caloundra, Cardwell, Casino, Coffs Harbour, Esperance, Gladstone, Gold Coast, Hervey Bay, Innisfail, Inverell, Ipswich, Kallangur, Mackay, Moura, Nambour, Pittsworth, Port Macquarie, Proserpine, Redcliffe, Rockhampton, Sydney, Taroom, Toowoomba, Townsville, Tully, Wongaling Beach (Mission Beach) and Yeppoon, and Unlock The Past's genealogy conference on a cruise.

Founder and coordinator of the 'Genealogists for Families' project.

I share extra tips on genealogy sources and strategies via my social media pages.

How to contact me:
If you think we are related, use the email address near my surnames list.


For research or copying services, follow the instructions on the page where you found a name, or on my Services page.


Other questions: Before contacting me, read this.


Postal address: Judy Webster, PO Box 5043, Algester QLD 4115, Australia.


Hotmail, Yahoo and certain Internet Service Providers occasionally reject mail from my address. If you do not receive a reply, check your spam folder, contact me again from a different email address, or write a letter to my postal address. Allow several weeks for a reply, as I may be away.


E-mail: My email address may change, so do not quote my address - just refer people to www.judywebster.com.au for current details. I am often away (with only a slow Internet connection) so check with me before sending email attachments.



Business email (before contacting me, read this): (shown as an image).


If your email bounces back as undeliverable, an alternative address is (shown as an image)

My telephone number is unlisted for personal and family reasons.
I use and recommend FindMyPast for Australia, NZ, UK, Ireland, USA


---
Home | About | Advice | Indexes | FAQ | Family tree | Links | Publications | Services | What's New
---
Updated 2 Nov 2016 . © Copyright Judy Webster. My 'Privacy policy' and 'Disclaimer'.
This site is licensed under a Creative Commons Attribution-NonCommercial-NoDerivs 3.0 Australia License. I hold copyright in the contents of the site, which may be used for personal research only. If you reproduce any content in any way, you must acknowledge that it belongs to me. If you wish to use any part of this site for professional or commercial purposes, you must contact me in advance to obtain my permission.